Reliance Jio customers and all those in the fray of taking up the services of the upcoming telecom provider, have a reason to cheer. Mukesh Ambani, Reliance Industries chairman, announced on Thursday, that "no Reliance Jio customer will ever pay for voice calls, ever."
Ambani was speaking at the RIL annual shareholders' meeting.
Ambani, while making the announcement, said that, one of Jio's principles was that customers should pay for only one service — either voice or data.
"Worldover, operators charge only for data, so voice and SMS is free. In a revolutionary concept for the Indian market, all the voice calls for Jio customers will be absolutely free," Ambani said.
"The era of pain for voice calls has ended. No Jio customer will ever pay for voice call again. roaming charges will also be zero," he reiterated.
This is applicable for all the domestic calls made. International calls will be chargeable but Ambani said Jio will make the most affordable international call rates available for its customers.
Data charges will also be affordable for Jio customers. Ambani announced that the data charges for Jio customers will be one-tenth of the industry cost. Jio customers will get an "effective data price of 5 paise per MB or Rs 50 per GB."
"Jio's advanced tech and scale allows cutting edge services at a fraction of the traditional cost. Jio customers should be the first to benefit from this; the advantage of the tech should be passed on to all customers," Ambani said.
"I believe that these are the absolute lowest data rates anywhere in the world.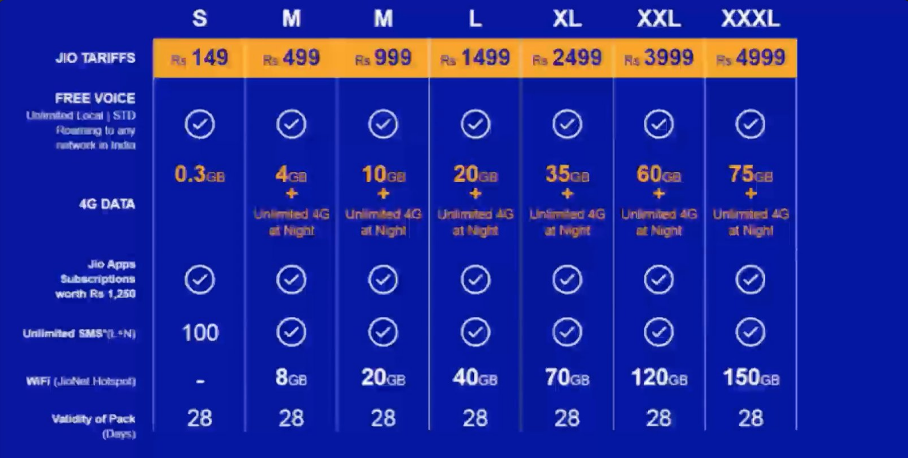 "Jio will make India the highest quality, lowest price data market in the world," Ambani said.
Ambani said that Jio's plans start from Rs 19 a day for occasional users, and go up to Rs 4,999 for heavy users. He also announced that all its new customers will get a 'free welcome pack' which will make Jio's services free till December 31. There's a special 25% extra data for students which can be availed by showing the college identity card, and there are enterprise-corporate deals too
Leave your vote
This post was created with our nice and easy submission form. Create your post!